Goji berry amount and nutrition facts conversion
Nutritional information table for
goji berries
Nutrition Facts
Serving Size 10g of goji berries
10 Servings per 100 g
0.7 Servings per 1/8 cup (30ml – 14g) *
Energy per 5g amount :
Calories / Kilocalories
4.13 Cal / kcal
Kilojoules 17.3kJ
Nutrients :
Per 1/8 cup (30ml)
Per 100g
Energy
48.6kJ
(11.6Cal)
346kJ
(82.7Cal)
Protein
1.5g
10.6g
Fat Total
0.5g
3.6g
– saturated
0.13g
0.92g
– trans fat
0g
0g
Cholesterol
0.0 mg
0.0 mg
Total Carbohydrate
3.1g
22g
Sugars
2.4g
17.1g
Polysaccharides
6.9g
49 mg
Water
<15%
(MAX)
<15%
(MAX)
Dietary Fiber
1.04g
7.4g
Selenium, Se
7.02 µg
(micro gram)
50 µg (microgram)
Sodium, Na
3.1 mg
22 mg
Potassium, K
158.65 mg
1,130 mg
Zinc, Zn
0.3 mg
2 mg
Calcium, Ca
15.7 mg
112 mg
Iron, Fe
1.18 mg
8.42 mg
Vitamin C – ascorbic acid
2,600 mg
( 2.6 g )
18,400 mg
( 18.4 g )
Beta-carotene
1.05 mg
7.45 mg
Thiamin (vitamin B1)
0.02 mg
0.16 mg
Riboflavin (vitamin B2)
0.2 mg
1.3 mg
Zeaxanthin
11.6 to 28.1 mg
82.5 to 200 mg
Amino acids
1.2 mg
8.37 mg
Ingredients: goji berries
Storage instructions: Store in a cool, dry place
Average expiry time: 1 year from production date
* 1/8 US Legal Nutrition Labeling Cup equals 30ml
Goji berries (dried goji) grams in a measuring cup amount (US measuring cup and Metric si cup)

US cup of goji berries = 111 grams = 3.9 oz net wt.
Metric cup = 117 grams = 4.1 ounces of goji berries

For conversion between other measuring units please use the goji berries converter above.
Goji berries are a very rich source of Vitamin C and Zeaxanthin content. For this calculator I used organically grown, very tasty, top grade berries from one specific region near Himalayas and Tibet.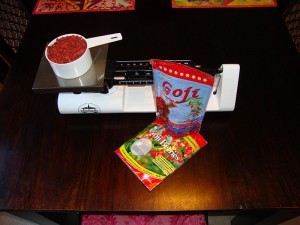 ( One page on wikipedia mentions that, depending on a soil where the berries grow, dry goji berries contain between 29 mg and 148 mg of Vitamin C per 100g amount. Is there an error or a typo? ) As I see it, those numbers most probably belong to fresh, not-dried, goji berry instead whose bodies are a lot heavier due to the much higher water content in fresh fruits. Dried goji though contain a lot more of the vitamin C per 100 grams. In fact C level is so much higher that the number for C vitamin amount is rather, for logical and practical reasons, listed in grams instead of in milligrams – otherwise the 18.4 g number would equal to 18,400 mg ( milligram to gram ratio is 1000:1 and formula for how many grams in milligrams is g = mg/1000 or mg = g x 1000 ).
I will be delighted to hear any input on the goji berries vitamin C content matters, either in dried or fresh goji berries fruit, thank you.
Apart what's in the goji berry nutrition facts table, use the goji berries calorie counter to calculate dietary and nutritional information for any other amount of goji berries. E.g. convert value from 1/4 of a cup amount, or 50g, 1 fl-oz servings, 100g, even US legal nutrition labeling cup (240ml/cup). Convert from any portion or measure. The tool also makes conversions of fats into energy units, from any amount of fat contained in goji berries. Details about goji berries are handy as healthy eating tips, for maintaining healthy diet therefore a personal healthcare plus wellbeing.
The goji berries online web tool makes smooth unit to unit conversions. From any new specific weight scales versus liquid measures. From weight in pounds ( lb ), ounces ( oz ), kilograms ( kg – kilo ), dekagrams ( dkg – dag – deca – deka ), grams ( g ), 100 grams ( 100 g ) portion, pints ( pt ) into an equivalent amount size. Or convert volume measures of goji berries from a value in liters ( l ), deciliters ( dl – dcl ), milliliters ( ml ), fluid ounces ( fl-oz ), gallons ( gal ), quarts ( qt ), pint US ( pt ) liquid, table spoons ( tbsp – tblsp – tbs ), tea spoons ( tsp – teasp ) of goji berries and convert also from measuring cups into either American US or Metric kitchen units. Enjoy this useful goji berries converter for cooking, baking and the nutrition data as health tips for wellness.
Find pages on convert to with online Google Custom Search
Dried organic / bio-dynamic goji berries amounts converter with nutritional facts information chart table.